Windows 8 Experiments
After I downloaded the bits and I tried to install it for the first time on a Virtual Machine, I sadly discovered that there was something wrong with the ISO image because it gave an error while extracting files at %62. A quick hash-check (which should have been done right after the download) showed that the file was corrupt and there went the 5GB of my bandwidth down the drain! Lesson learned: Always perform a hash-check and verify the file if a hash is provided by the source.
Anyway, after downloading it successfully, I installed it on a VMware virtual machine. I followed the step-by-step guide at http://vlkn.me/q5jyJN, but there aren't any tricks actually. I started using it a on the virtual machine a little bit and as everybody else, I hated it! Obviously, the tile interface is designed for tablets or touch-enabled screens to be more generic.
So, my first interaction with it was negative for 2 reasons:
It's always a bit off-putting testing out a new OS on VM. Because you always revert back to your original OS all the time and you don't have the entire experience.
In this case, it's clear that without a touch screen I wouldn't enjoy using it much. (I'm not sure how well people will react when it RTMs)
Then I suddenly remembered that I already had a touch-screen notebook! 3 years ago, i bought an 12.1" screen notebook which back then was called a tablet PC because it had a rotating screen. Until this day I only used its touch capabilities a few times for experimental purposes. My initial intention to use it as an e-book reader soon proved to be preposterous as it weighs a solid 2.2 kg.! (An iPad 2 is 600 grams by the way)
But my long wait to find a legitimate use for it is over! Finally I can use it's tabletish functionalities!
First I installed it on a VHD and booted it off of it. Scott Hanselman has a great blog post walking you through the steps: http://vlkn.me/n5Opva
So I immediately installed it but again i was not satisfied! The performance wasn't so good and it also messed up with the boot loader. Even though I could opt to boot from my old Win 7 installation, it just restarted and couldn't load it. I tried to repair using Win 7 DVD but to no avail. But using the repair functionality of the Windows 8 did the trick and I could boot it to my Win 7 again. And to fix it once and for all, I changed default OS from system settings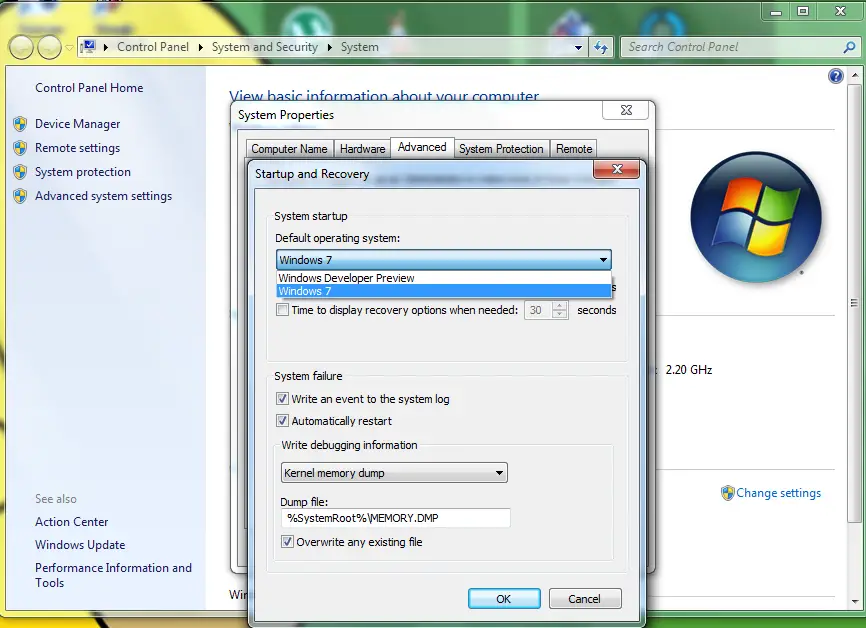 Now I could freely choose the OS I wanted but the performance issues still remained. Then I decided to use the hard drive of my broken PS3. So I switched disks and installed it for the third time but on its own personal disk this time!
Performance is still not outstanding but then again my notebook never had a outstanding performance regardless of the OS running. Finally, here's a little video I took. Screen is resistive so it's a bit hard to use with finger but still it's the closest thing to a tablet I have at the moment running Windows 8.
I will be playing around with it now and hopefully post more on this subject later.